Once upon a time, the weirdest visible thing going on with Quentin Tarantino was his obsession with Uma Thurman's feet.
That was a simpler time. Or at least it seemed that way. Now we know that for years seemingly half of Hollywood has been teetering precariously on nondisclosure agreements, whisper networks and who knows how many people's tacit willingness to not be the one to rock the boat.
When Tarantino came forward to the New York Times in October to admit that he "knew enough to do more than [he] did" about Harvey Weinstein, who either with Miramax or The Weinstein Company helped make all of the filmmaker's movies a reality, the article stated that Tarantino's ex-girlfriend Mira Sorvino told him about unwelcome advances and unwanted touching. More than a week beforehand, the New Yorker had published a stomach-churning account of Weinstein's behavior toward several women, including Sorvino.
The NY Times article also notes that Tarantino knew about the settlement Weinstein reached with Rose McGowan, whom Tarantino directed in Death Proof and shared a disturbing scene with in Robert Rodriguez's Planet Terror, when the directors collaborated for the 2007 double feature Grindhouse.
But sandwiched between the mentions of Mira and Rose lies the sentence: "Another actress told him a similarly upsetting story years later." Later in the piece, it reads, "Another actress friend told him a troubling story of unwanted advances by Mr. Weinstein in a hotel room. Mr. Tarantino confronted Mr. Weinstein, who offered the woman what the director described as a weak apology."
There is no mention of Uma Thurman by name in the article, but that actress had to have been Uma Thurman.
The Oscar-nominated actress indicated early on that she had her own upsetting history with Weinstein, first telling Access Hollywood the day before the Times' Tarantino piece came out that she was "waiting to feel less angry" before she said much. A month later she went into a little more detail on Instagram.
"I am grateful today, to be alive, for all those I love, and for all those who have the courage to stand up for others. I said I was angry recently, and I have a few reasons, #metoo, in case you couldn't tell by the look on my face," she wrote on Nov. 23 alongside a close-up photo of her character Beatrix Kiddo driving in Kill Bill, "The Bride" on her quest for revenge. "I feel it's important to take your time, be fair, be exact, so…Happy Thanksgiving Everyone! Except you Harvey, and all your wicked conspirators. I'm glad it's going slowly. You don't deserve a bullet."
Slowly, and yet quickly as well, as by then dozens of women had spoken out—some anonymously but most using their names—with allegations against Weinstein, ranging from harassment and retaliation to rape. (Weinstein has spent the past few months in Arizona, where he's said to be undergoing treatment; he has denied all allegations of nonconsensual sex.)
But the extent of the fallout from the toxic relationships formed in this environment is still only slowly making itself known, as longtime associations continue to bust apart as more comes out about just what sort of behavior was suffered through and then swept under the rug, all over Hollywood and beyond.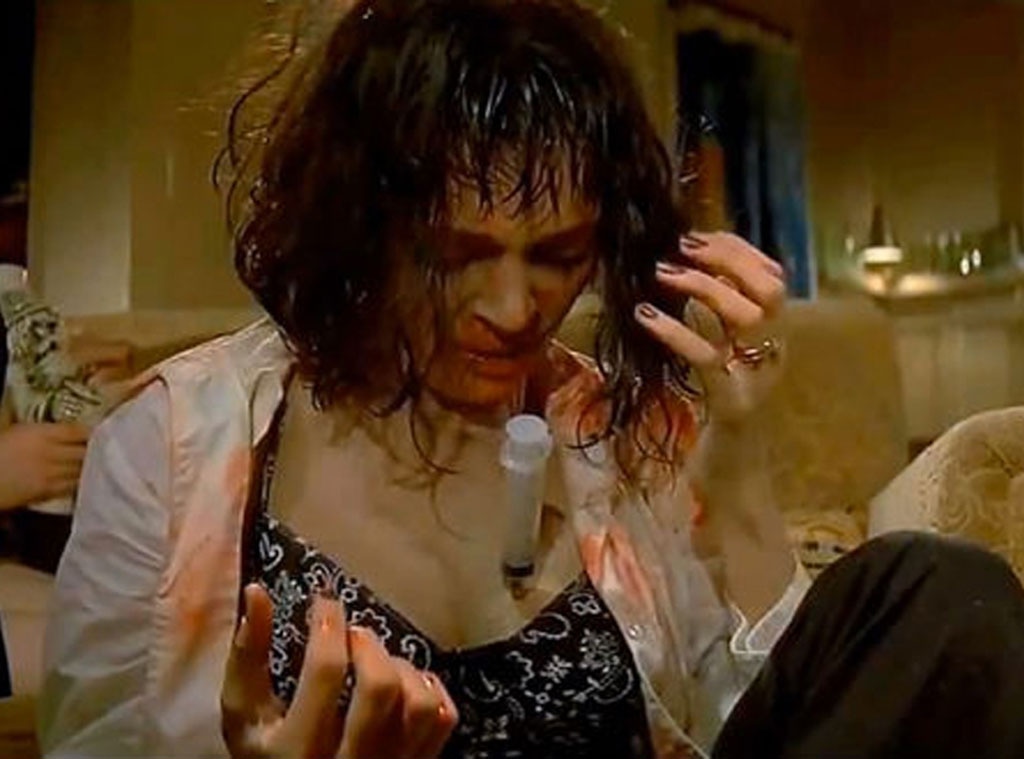 Miramax
Thurman went to hell and back in the three films she made with Tarantino, from taking a needle to the heart in Pulp Fiction to being buried alive and suffering every kind of mental and physical torture in between in Kill Bill Vols. 1 and 2.
"Most movies, you get hired, you're excited about the director, you film it, you loop it, you go celebrate it, that's it," Thurman told Rolling Stone in December 2003 after the first Kill Bill came out. "This movie was so much more involved." Or as she jollily put it earlier that year to Time: "I get shot in the head, raped, kicked, beaten and sliced by samurai swords. The movie should have been called 'Kill Uma.'"
Her director-muse relationship with Tarantino was already the stuff of cinematic legend by then, and the four-hour-plus saga that comprises the two Kill Bill films was merely the latest highly stylized fruit of their partnership, every fight scene and closeup of Thurman's vengeful heroine an homage to the joy of movie-making. The overall story was inspired by a conversation they had in 1993 about the revenge genre of filmmaking while shooting Pulp Fiction, which won the Palme d'or at Cannes in 1994 and netted Thurman her first Oscar nomination. Tarantino won an Oscar for his original screenplay.
And while she's dropped plenty of crumbs over the years about how taxing the shoot was on her physically, it turns out the making of Kill Bill was fraught with emotional tension, as well—caused in part by Tarantino's quirks, which other actors can attest to, but largely due to the palpable shift in their former rapport, brought on by her experience with Weinstein.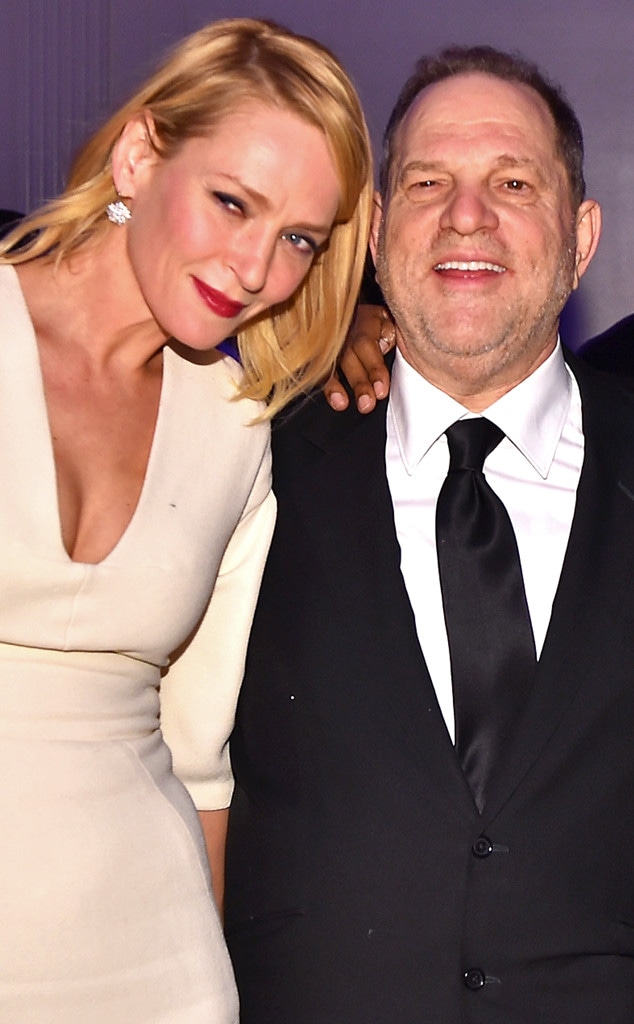 Dimitrios Kambouris/WireImage
Thurman shared her own personal Weinstein story with The New York Time's Maureen Dowd, saying in the article published Saturday that the Hollywood mogul attacked her in his suite at the Savoy Hotel in London in the years after the game-changing success of Pulp Fiction in 1994. "He pushed me down. He tried to shove himself on me. He tried to expose himself. He did all kinds of unpleasant things," Thurman said. "But he didn't actually put his back into it and force me. You're like an animal wriggling away, like a lizard. I was doing anything I could to get the train back on the track. My track. Not his track."
She managed to get away and the following day he sent her yellow roses, as well as a note reading, "'You have great instincts.'"
When she saw him again soon after, she reportedly told him, "'If you do what you did to me to other people you will lose your career, your reputation and your family, I promise you.'"
Thurman is fully aware that in the years since she's been photographed numerous times with Weinstein, seemingly looking happy. In fact, his camp sent a half-dozen photos of the two smiling to the Times, as if that would successfully rebut Thurman's version of events.
Truth be told, there appear to be hundreds of photos of famous men and women smiling alongside Weinstein that have been taken over the years. But you don't have to be famous to have old photos of yourself smiling from a time when you knew you weren't happy.
Thurman told Dowd that Tarantino noticed her looking upset around Weinstein at the Cannes Film Festival in 2001, and she took the opportunity to remind him that she'd told him about their run-in at the Savoy. "He probably dismissed it [at the time] like 'Oh, poor Harvey, trying to get girls he can't have,' whatever he told himself, who knows?" Thurman said. But when she reminded Tarantino in 2001, "the penny dropped for him. He confronted Harvey."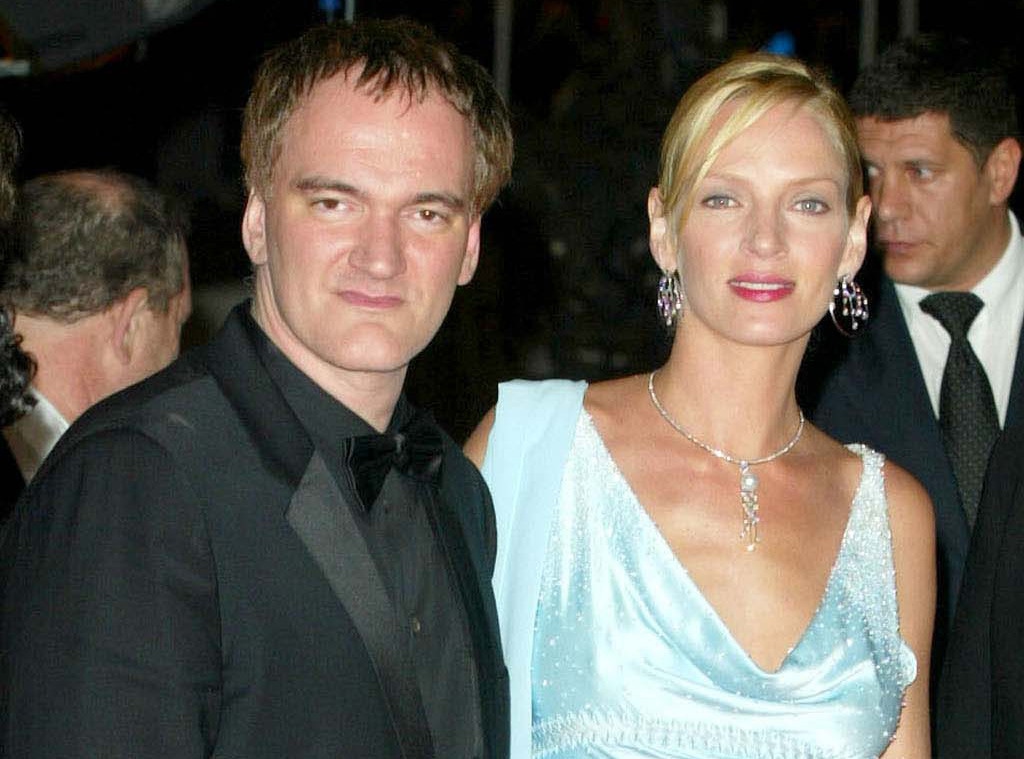 Globe Photos/ZUMAPRESS.com
Forevermore, however, there was a before and after with Tarantino. There's a reason why it was hard, if not ultimately impossible, for Thurman to enjoy the outpouring of excitement and accolades heaped her and Tarantino's way in response to Kill Bill.
Nine months into the physically exhausting, continent-spanning shoot, Thurman was asked to do something that haunts her to this day, emotionally and physically. Instead of using a stunt double, as she requested, Tarantino wanted Thurman herself behind the wheel for the driving scene in which she's at long last on her way to confront David Carradine's Bill. She protested, having heard from a crew member that the car hadn't been operating properly.
But Tarantino insisted, so she started driving, she lost control and she crashed into a palm tree. Thurman showed Dowd video footage of the accident—which she had obtained with Tarantino's help—before posting it to Instagram on Monday. She said that she refused at the time to legally absolve Miramax of any responsibility for the crash, which she had been asked her to do in exchange for getting to review the footage.
"Quentin finally atoned by giving it to me after 15 years, right?" she told Dowd. "Not that it matters now, with my permanently damaged neck and my screwed-up knees."
Knowing as well as anyone that her relationship with Tarantino could be construed as odd—they were rumored to be dating as recently as 2014—Thurman admitted that it took her years to realize that being mistreated in any way on set didn't make up for the seeming adoration her director might have shown her in other ways, such as when Tarantino told then-President Barack Obama that Thurman was the reason he had his house.
"Harvey assaulted me but that didn't kill me," she told Dowd. "What really got me about the crash was that it was a cheap shot. I had been through so many rings of fire by that point. I had really always felt a connection to the greater good in my work with Quentin and most of what I allowed to happen to me and what I participated in was kind of like a horrible mud wrestle with a very angry brother. But at least I had some say, you know?"
Thurman stated on Instagram Monday, though, that while she believes the circumstances on the set that led to the accident were "negligent to the point of criminality," she doesn't believe Tarantino acted with "malicious intent." And now, as Tarantino's own reckoning is coming to pass, he's helping her get the truth out.
Charley Gallay/Getty Images for The Weinstein Co
"I knew that the piece was happening," Tarantino told Deadline in an article published Monday. "Uma and I had talked about it, for a long period of time, deciding how she was going to do it. She wanted clarity on what happened in that car crash, after all these years. She asked, could I get her the footage? I had to find it, 15 years later. I didn't think we were going to be able to find it. It was clear and it showed the crash and the aftermath. I was very happy to get it to Uma."
But what of his tendency to step in, supposedly for the sake of both his art and the actress, in order to get certain scenes of defilement exactly right?
The Times piece revealed that, when Michael Madsen's character spits on Beatrix in Kill Bill, it was actually Tarantino doing the spitting. And when Chiaki Kuriyama's murderous teen Gogo was choking her with a chain during the famous Crazy 88 fight scene, that was Tarantino stepping in to hold the chain as well.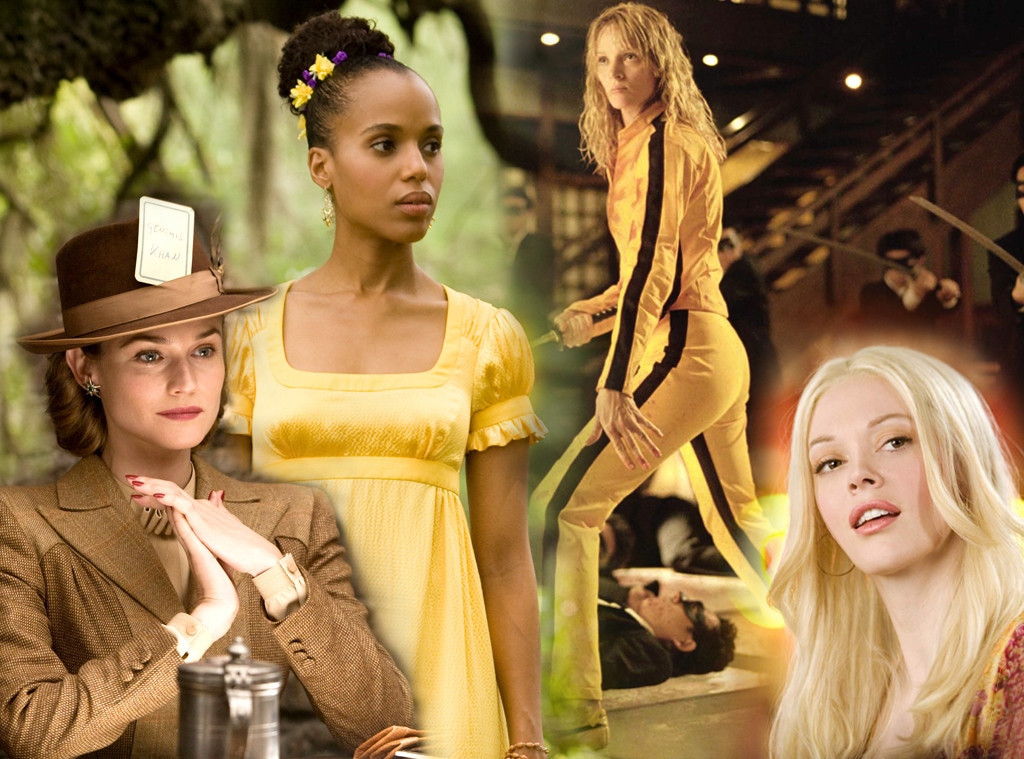 E! Illustration
Tarantino also stepped in for Christoph Waltz, when as cold-blooded Nazi Col. Hans Landa in Inglourious Basterds he strangles Diane Kruger's turncoat actress Bridget von Hammersmark.
And the filmmaker doesn't think there's much to be made of that at all.
"If you notice, all that choking and spitting stuff is not in quotes from Uma. It's part of Maureen Dowd's prose," Tarantino told Deadline. "For some reason there is a lot of hay being made out of this. Which I don't understand, at all. You've seen movies where somebody spits in somebody's face?"
He had a very detailed, characteristically verbose explanation as to why he did the spitting scene in Kill Bill—to sum up, he didn't trust Madsen to nail the scene in the "only" two or three takes he promised Thurman. He also said that it was Thurman's idea for him to do the choking in Kill Bill, again to get the effect on Beatrix's face exactly right.
Then Tarantino explained that, by the time he shot 2009's Inglourious Basterds, he knew what he wanted in a choking scene.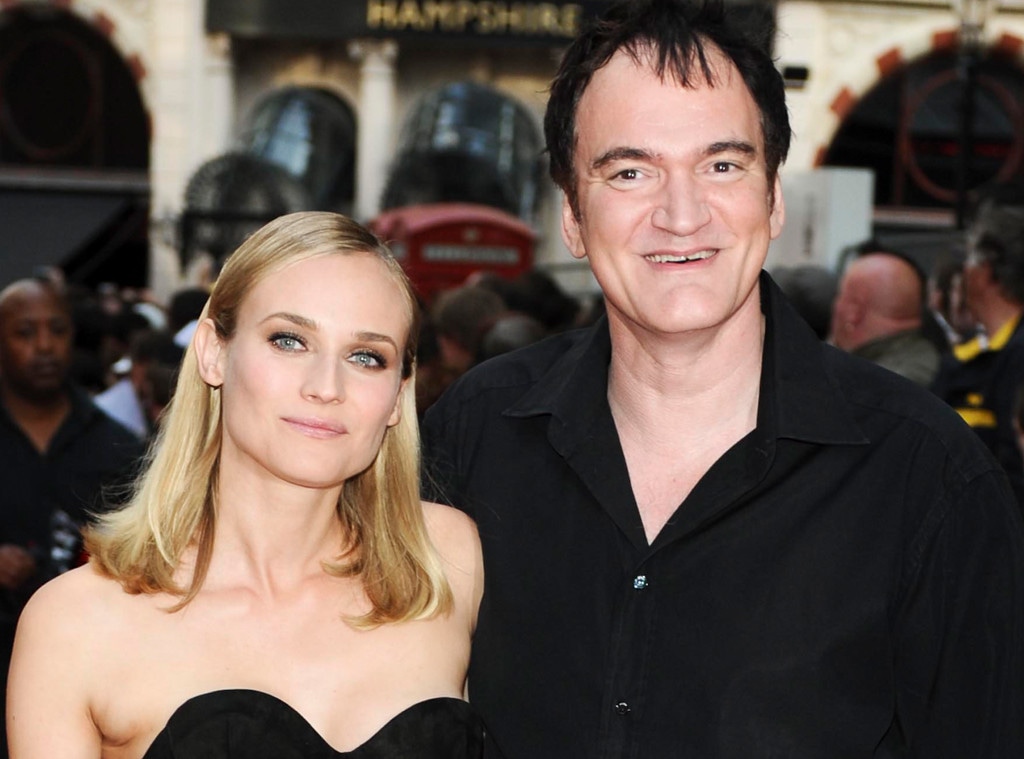 Ash Knotek/Snappers/ZUMA Press
He recalled telling Kruger, "What I would like to do, with your permission, is just…commit to choking you, with my hands, in a closeup. We do it for 30 seconds or so, and then I stop. If we need to do it a second time, we will. After that, that's it. Are you down to committing to it so we can get a really good look. It'll be twice, and only for this amount of time, and the stunt guy was monitoring the whole thing."
Kruger in turn took to Instagram Tuesday to clarify that her "work experience with Quentin Tarantino was pure joy. He treated me with utter respect and never abused his power or forced me to do anything I wasn't comfortable with." That being said, she also wrote, "This is an important moment in time and my heart goes out to Uma and anyone who has ever been the victim of sexual assault and abuse. I stand with you."
The German actress, whose latest movie In the Fade just won the Golden Globe for Best Foreign Language Film, said last year that she herself never had an inappropriate experience with Weinstein, but she was fully aware that such misconduct was rampant, and she was particularly aware from her time working as a model.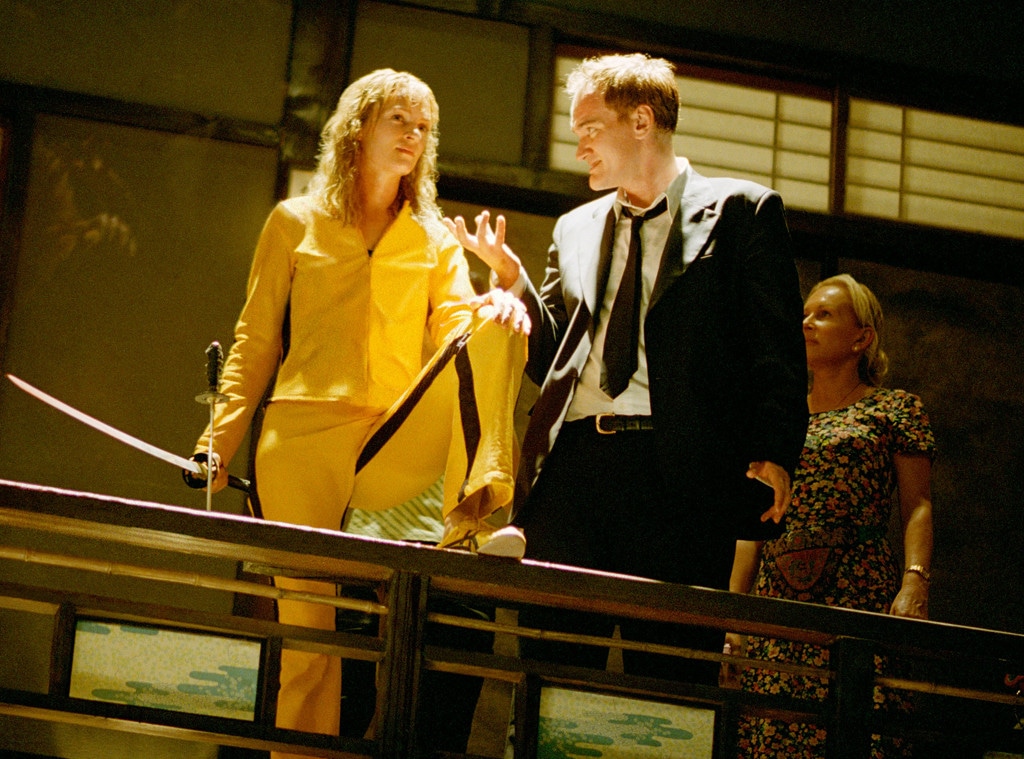 Miramax
It's no secret, meanwhile, that Tarantino is a notoriously exacting writer and director. For instance, he set out to make Kill Bill without using any digital effects whatsoever, desiring a certain irreplaceable authenticity. "I'm really particular about the blood, so we're using a mixture depending on the scenes. I say, 'I don't want horror movie blood, all right? I want Samurai blood.' You can't pour this raspberry pancake syrup on a sword and have it look good. You have to have this special kind of blood that you only see in Samurai movies," he told Time in 2002.
But he is willing to compromise with actors he trusts.
"It's unusual for someone to be willing to think on their feet this way," Thurman also told Time in 2002 (it was said to be day 32 of the shoot, which would make it pre-crash), "rather than to be hanging by their fingernails to their script, or to their little thing that they wrote, or to the decision that they thought was the right one yesterday in the shower."
The actress then told Time in September 2003, when Part 1 was closer to being released, "He is brilliant, but my job was to take this character out of his wildly creative, seemingly improvisational world and make her human. If the movie was going to be more than a cartoon, it was up to me."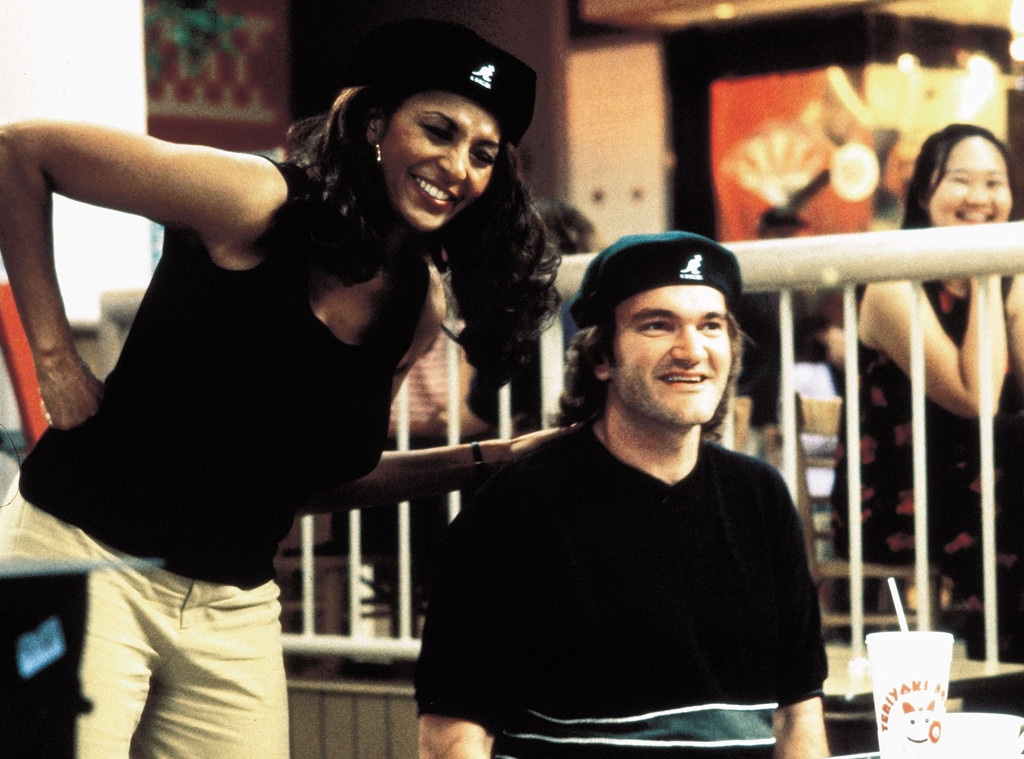 Miramax Film
Pam Grier, the 1970s-era star of Blaxploitation classics like Foxy Brown and Coffy, enjoyed a career resurgence after Tarantino cast her in his 1997 caper Jackie Brown—after promising, when she tried out for the role that went to Rosanna Arquette in Pulp Fiction and didn't get it, that they would work together.
"He is a man of his honor and his word," Grier told Variety last year. She also said that Tarantino was "lovely to work with and everyone wanted to give him more. We have this wonderful legacy of an artist who wants to share his vision, his breath, his blood, and sweat with us. We hear his beats."
But he hasn't made a film yet where a woman—if there are women in the film—doesn't get put through the ringer.
Thurman, three months after giving birth to her son Roan, was expected to dive head-first into martial arts training. "Three styles of kung fu, two styles of sword fighting, knife throwing, knife fighting, hand-to-hand combat, Japanese speaking. It was literally absurd," she told Time in 2003.
About Thurman's difficulty training (she hit herself in the head the first time she picked up a samurai sword and figured that would be it for her stunt scenes), Tarantino also told Time, "Before this movie, Uma's way of training was to smoke half a pack of cigarettes as opposed to a pack, all right? She started the training 30 lbs. overweight from the baby, and she was really intimidated, but no way were we going to use quick cuts or CGI. Not in this movie."
Ultimately, Thurman said about the saga, "I am really so happy with it. And so happy that it's over."
Miramax
Doing press for Kill Bill Vol. 2 the following year, in April 2004, Thurman was asked if she got hurt much on set.
"Yeah, lots! All the time," she told London's Independent, which noted that she laughed. "I don't want any more injuries."
Asked if she would make another action movie, Thurman said, "You know, you could make one movie with one person and another one with another person, thinking it's going to be similar, and it changes so completely. Quentin being quite a unique person, I can't imagine even he will go about making a movie again in the same way. But I certainly feel that I had to learn some stuff. It stays in there. It's like learning to dance. Your body starts to tune itself to a certain type of coordination that's stir-up-able, so who knows? I'd like to play another really strong female character, but she doesn't necessarily have to be a boxer."
Tarantino's ensuing films portray feisty but similarly beaten down female characters. Even when they ultimately triumph—like Beatrix Kiddo, or Jackie Brown, or as McGowan's Cherry Darling did in Planet Terror, after she's almost raped (by an assailant played by Tarantino, who is dispatched quite impressively); or like Kerry Washington's Broomhilda von Shaft in Django Unchained—no redemption comes easily.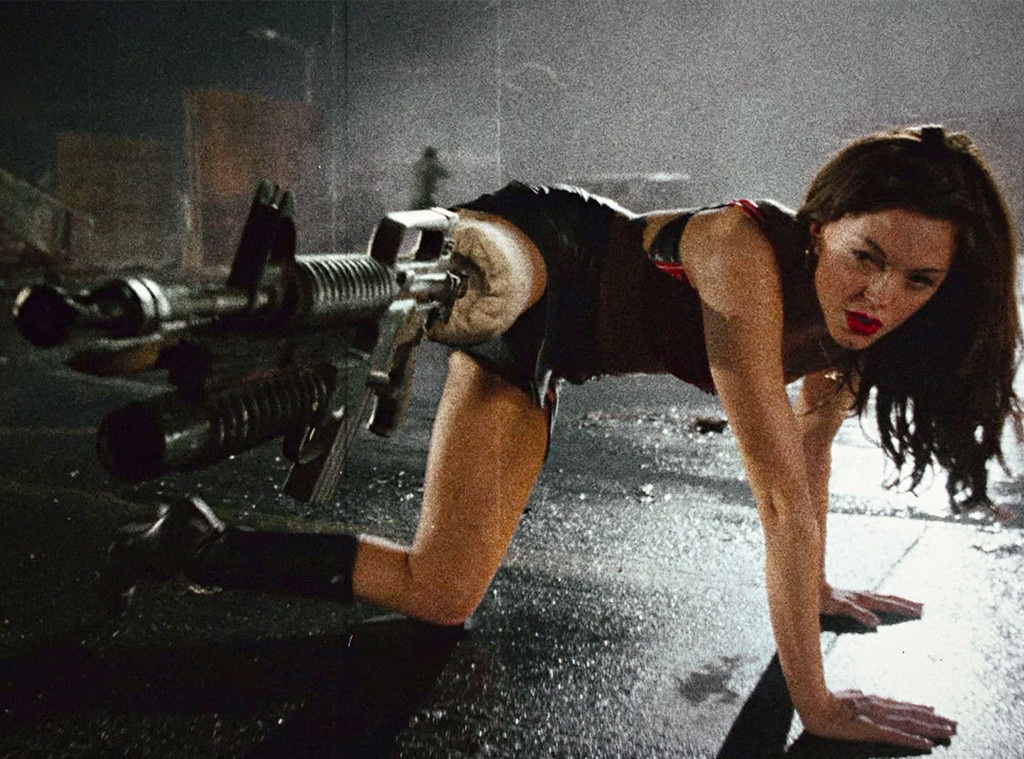 The Weinstein Company
McGowan, who survives to get revenge on many attackers with her assault-rifle leg in Rodriguez's Planet Terror but is killed in a violent car crash playing Pam in Tarantino's Death Proof, wrote in her book Brave that Rodriguez played "mind games" with her on the set. He was fully aware of what Weinstein did to her, she recalled (Weinstein has denied McGowan's allegation of rape), and then went and sold the movie to him. Moreover, she alleges in the book that Rodriguez, her boyfriend at the time, made her take a lie detector test to prove she wasn't sleeping with Tarantino.
McGowan doesn't call out any explicit behavior on Tarantino's part, but he's included in the story as allegedly joining with Rodriguez in selling Grindhouse "into the hands of the man who had assaulted me and scarred me for life." His presence exists as one of the complicit.
Rodriguez, while insisting he has no bone to pick with McGowan, whom he dated off and on for several years, has denied her version of events, saying she knew before signing up that the Weinstein brothers were financing the film and that he certainly never played mind games with her.
As reported by the NY Times, Tarantino knew that Weinstein had paid McGowan off to keep quiet, but there's no mention of whether he knew exactly what Weinstein was allegedly paying her off for.
"It's inspiring to be around somebody who's that committed and passionate about the work," Washington, whose character in Django Unchained is brutalized by Leonardo DiCaprio's sadistic plantation owner, told IndieWire about Tarantino in 2012. That being said, she admitted that the script scared the crap out of her and she approached the role with trepidation.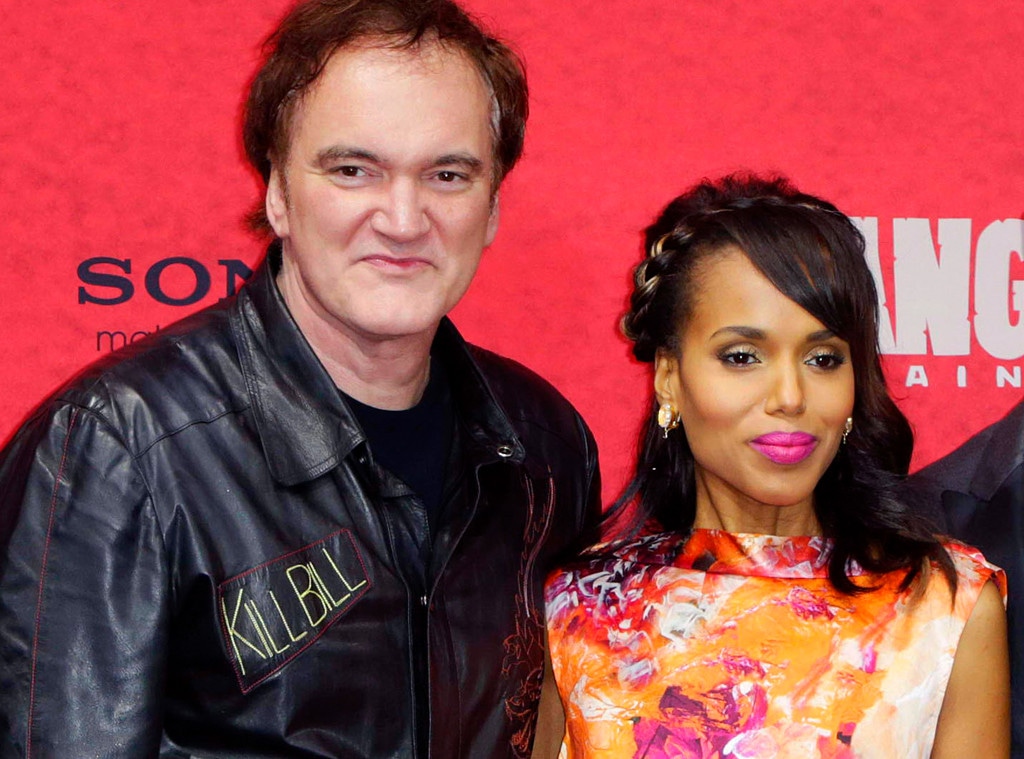 Future-Image/ZUMAPRESS.com
"I remember turning to [Jamie Foxx] one day and saying, 'If this movie goes on for one week longer, I'm not going to survive it,'" she recalled. "My parents came down and my manager came down at some point because they were concerned. It was really tough. I guess one of the things I walked away with was more gratitude than I have ever had before for the people who were able to survive this period, because I feel like we barely survived it for pretend, for nine months. I got to go home and take a shower every night, eat a nice dinner and call my therapist."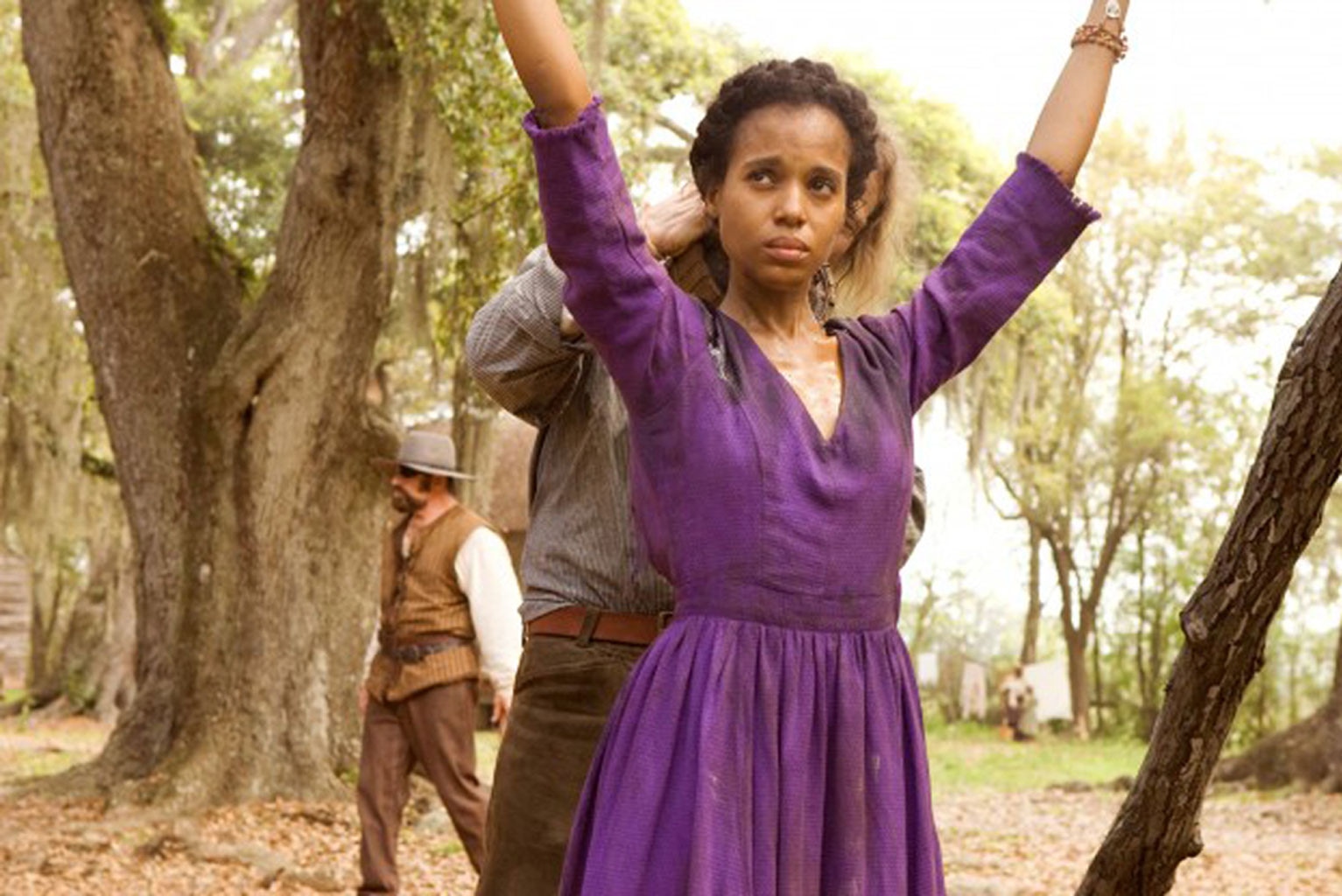 The Weinstein Company
Washington said that the director was there for her, though, when it all got to be too much.
"I would actually say all of the men," she said. "There were moments where Sam [Samuel L. Jackson] would step in and say, 'You can't do that. This is a movie, you gotta do this for pretend.' Sam was very protective of Leo. At that scene at the dinner table, every moment after cut he would ask, 'Are you OK?' We all just walked this line of protecting each other and pushing each other. Our coach in all of that is Quentin."
Similar to Beatrix, Broomhilda has a scene where she's imprisoned in coffin-size confines in Django, an experience that left Washington traumatized.
"I had nightmares about it: I was feeling trapped," she later told The Hollywood Reporter. "I had no ability to make decisions about where I'm going and what I'm doing. I was concerned for my sanity." (Christoph Waltz won his second Supporting Actor Oscar for the film, his first having come for Inglourious Basterds.)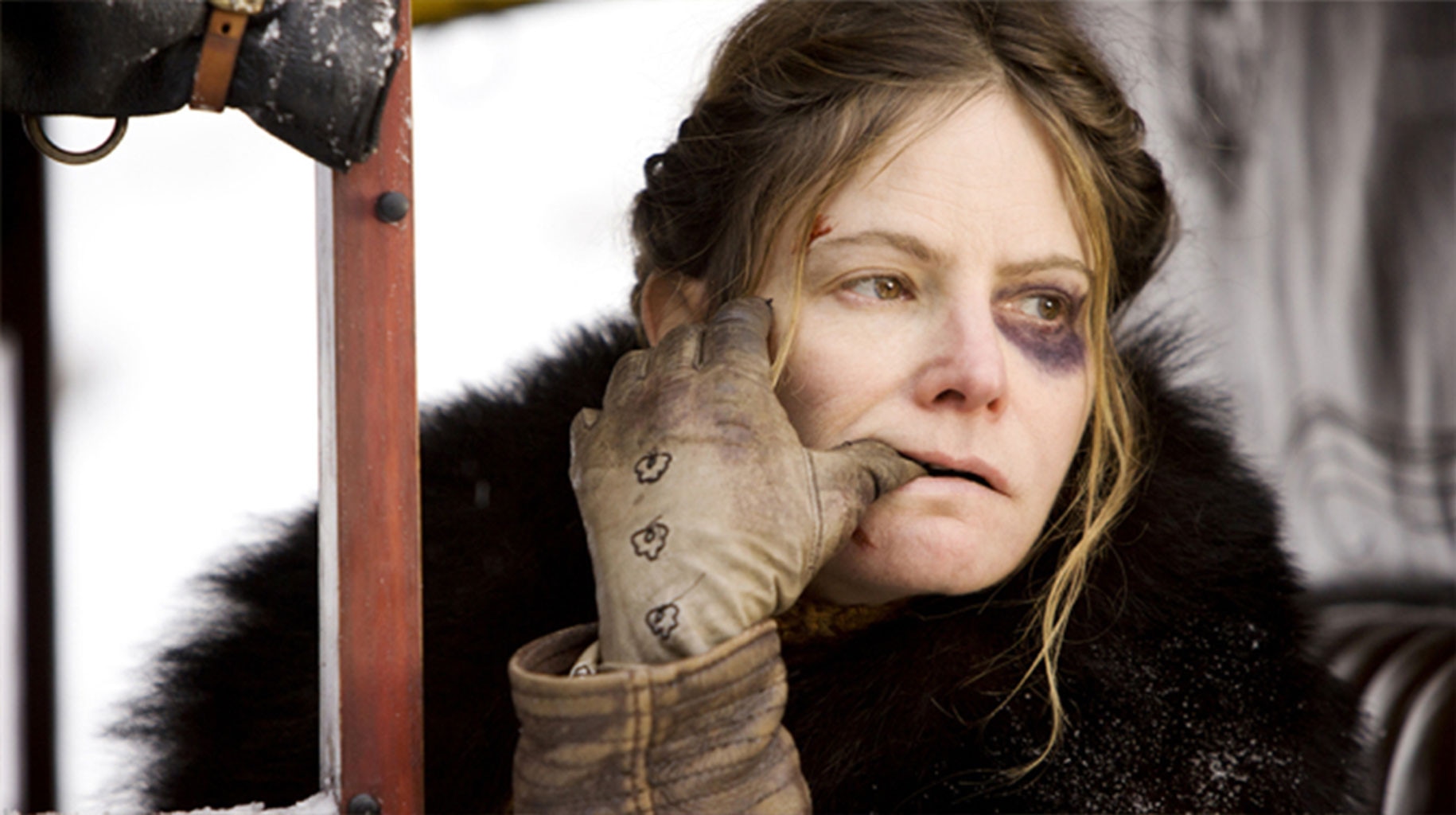 Double Feature FIlms
The most recent Tarantino leading lady is Jennifer Jason Leigh, whose Daisy Domergue may have been just as likely to blow your head off as any man in 2015's The Hateful Eight, but who takes a hell of a beating on her way to her own final curtain. (Tarantino first chatted with Jennifer Lawrence about the role, but her schedule was too packed.)
Ironically, Tarantino taught Leigh to spit in the manner he saw fit for her role as a cold-blooded killer with no not-rough edges and a bounty on her head. She recalled to Vanity Fair the director telling her, "I don't want you to spit like a girl. I want you to spit like a Sex Pistol."
On Conan last summer, Leigh confirmed that one of Tarantino's pet peeves was actors falling asleep on set. And if they do…
"He has a very…well, it's not his personally," Leigh said, searching for the right words and actually snorting a bit at the memory. "He has a large sex toy—it doesn't belong to him! It's just for people that fall asleep, and it's purple." "And he will lay that device on top of someone and take a picture?" Conan O'Brien wondered. "Yeah, and then you go on the wall of shame, but I would never fall asleep," she added.
Not that this was some big secret, as Tarantino had already talked about his sleep deterrent on Conan in 2016.
"To put it the exact right way," he explained, "it did kind of always bug me when you shoot at night and all of a sudden you see a crew member sleeping or an actor sleeping…So I came up with something where it wouldn't bug me. It would discourage sleeping, wouldn't bug me and if it did happen now you're actually happy about it." So around the time of shooting Jackie Brown he brought "Big Jerry" to the set.
He proceeded to act out what he would do with Andy Richter.
"And then you keep all the photos and put them on a wall of shame!" he concluded proudly. "We got Daryl Hannah with 'Big Jerry,'" Tarantino said, referring to the Kill Bill set, where Hannah played Thurman nemesis Elle Driver. "I printed shirts, with a picture of the dildo right next to her face."
"And people seem to like working with you again?" O'Brien marveled humorously. "That's the part that's striking to me."
(Hannah, meanwhile, told Ronan Farrow for The New Yorker last year that Weinstein aggressively tried to get into her hotel room on one occasion and, when he barreled into her room at another time, "I know with every fiber of my being that if my male makeup artist was not in that room, things would not have gone well." She said, "I feel a moral obligation to support the women who have suffered much more egregious transgressions.")
But like Grier and Kruger, Leigh has had nothing but praise for Tarantino as far as her experience making a film with him was concerned.
"He just sees you and what you're capable of," she told The Guardian in January 2016. "That's such a blessing, and it really made me remember who I was as an actress; I just had forgotten. Not in a bitter or sad way; it was just like I didn't feel particularly meaningful or relevant right now. I was OK with it, I had other things going on and that's fine. It's just the way things go.
"This is really remarkable for me. Honestly, I still look at the poster for The Hateful Eight and I can't believe I'm in the movie. I love it so much and the experience was so grand. It really was exceptional."